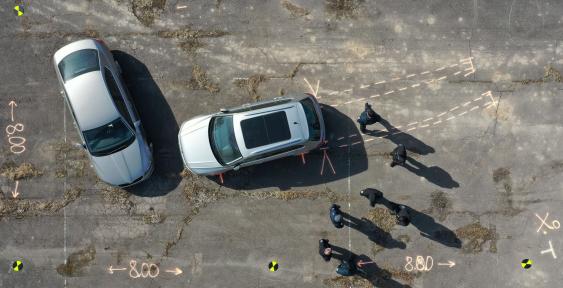 Training course "Capturing Crime Scenes by Unmanned Aerial Vehicles" implementing Project no. LT06-4-VRM-TF-001 under of the programme of Norwegian Financial Mechanism 2014-2021
05/09/2022 - 12:17
While implementing a Project under of the programme of Norwegian Financial Mechanism 2014-2021, namely, "Strenghening of Inter-Agency Cooperation and Improvement of Crime Ivestigation Quality in the Lithuanian Police", the Lithuanian Police Forensic Science Centre organized two training course sessions called "Capturing Crime Scenes by Unmanned Aerial Vehicles", 3 days each (on 22-24 and 29-31 March 2022) and twenty-six officials (specializing in crime scene inspections) from the forensic examination units of Alytus, Kaunas, Klaipėda, Marijampolė, Panevėžys, Šiauliai, Tauragė, Telšiai and Utena Police Headquarters participated in them. To carry out the theoretical and practical parts of the training, the existing infrastructure of the Lithuanian Police School was used.
These were the first targeted training courses meant for the forensic units using unmanned aerial vehicles which were aimed at teaching employees to capture crime scenes by the unmanned aerial vehicles "DJI Mavic2 Pro" when performing automated flight missions and controlling their structural cameras properly where the details collected are used for the creation of aerophotographic maps of crime scenes enabling composition of extremely precise schemes and situational models during further stages of investigations.
Mr Tomas Butrimas, Head of the Lithuanian Police Forensic Science Centre, thinks that the training activities to use unmanned aerial vehicles meet current global trends to solve forensic tasks and to satisfy daily needs of the police.
See photo gallery for the moments captured during the training sessions.