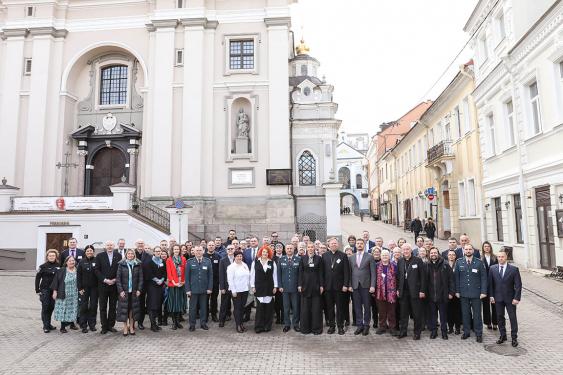 Meeting with representatives of St. Martha's group
03/14/2023 - 11:02
The conference "Uniting Forces against Human Trafficking" organized by the Police Department together with the group of Saint Martha's took place in Vilnius in February 28 - March 1, 2023. During the conference, police representatives with the representatives of St. Martha group also discussed the problem of domestic violence, discussed new ways of solving the problem and strengthened inter-institutional cooperation. The meeting was attended by the General Commissioner of the Lithuanian Police Renatas Požėla, St. President of Martha's Group - Cardinal Vincent Nichols, Archbishop of Vilnius Metropolitan Gintaras Grušas, experts from law enforcement institutions, representatives of judicial institutions: Lithuanian Prosecutor General's Office, Supreme Court of Lithuania; representatives from non-governmental organizations: RENATE, APT Ireland, Caritas, Lithuanian Community of the United Kingdom, Women's Information Center, Lithuanian National Association against Human Trafficking, Office of the Northern Council of Ministers in Lithuania; representatives of religious organizations: the German Bishops' Conference, the Northern Bishops' Conference, the Irish Bishops' Conference, the religious organization "Women at the Well", the Diocese of Denmark, the Diocese of Reykjavík, the religious organization "Sisters of Mercy Southern Province" and representatives of other communities. A total of 74 participants from 13 countries took part in the conference.
At the conference, the representative of the Project partners from Oslo Renate Sætre, gave a presentation on "RISK, domestic violence and trafficking - a multi-agency approach".
You can find more pictures here.