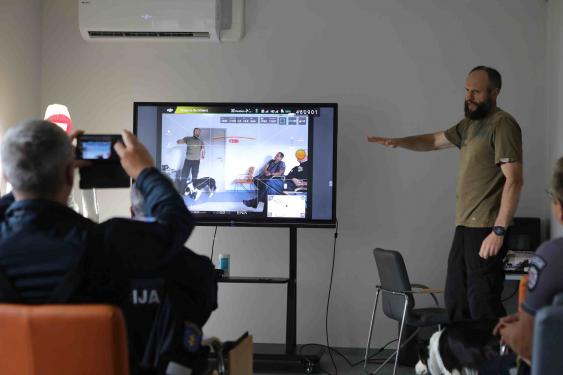 Training titled "Documentation of a location of a traffic accident (criminal offence) through aerial photography" delivered
10/03/2022 - 11:45
On 6-8 and 13-15 September 2022, the Lithuanian Police Forensic Science Centre delivered two training sessions (each lasting 3 days) – "Documentation of a location of a traffic accident (criminal offence) through aerial photography: identification of traces (objects), unified marking and planning and performing UAVs' missions for aerial photography" implementing the project "Strengthening of Inter-agency Cooperation and Increasing of Crime Investigation Quality in the Lithuanian Police" under the Norwegian Financial Mechanism 2014-2021 Programme. The training was attended by twenty six employees of forensic investigation units of Alytus, Kaunas, Klaipėda, Marijampolė, Panevėžys, Šiauliai, Tauragė, Telšiai, Utena and Vilnius County Police Headquarters, whose duties involve carrying out crime scene investigations (examinations) and who have experience in the operation of unmanned aircrafts. For the implementation of the theoretical and practical parts of the training, the infrastructure of the Professional Development and Training Centre of Šiauliai County Police Headquarters and the autodrome of Šiauliai Labour Market Training Centre were used.
This was the first targeted training, for the staff of forensic investigation units, on the use of unmanned aerial vehicles, which was focused not on the improvement of basic skills needed to control UAVs but rather on the systematic assessment of scenes of traffic accidents (criminal offences) and of traces (objects) detected there, unified marking with short-term aerosol paint and with evidence markers suitable to work with even at night, planning and practical implementation of photogrammetry missions taking into account the specificities of urbanistic infrastructure, flora, fauna and other specific features.
We should welcome the fact that practising photogrammetry mission planning and performance during dark periods and custom software configuration solutions for UAVs is a step forward towards creation of a unified algorithm, in the Lithuanian police, for planning and performance of UAVs' night missions.
Saulius Gagas, the Head of the Lithuanian Police Forensic Science Centre, believes that investment in the professional training on the use of unmanned aerial vehicles, targeting the staff of forensic investigation units, undoubtedly shows strong leadership of the Lithuanian police in the context of the Baltic States.
You can find more pictures here.